Product Description
Water Pump for Water Circulation Brief introduction:
ZZX self-priming chemical centrifugal pump is a new product with advanced technology.The pump is a centrifugal pump of horizontal, single stage,end suction,cantilever design.The self-priming time has been shorted because of the external connective structure. It has the characteristic of self-priming: filling the water at the first operation time, and then it will take up medium itself when started again. It has lots of advantages such as installing, operating, and maintaining easily, saving energy working reliably etc.
Parameters:
Flow rate:

Q= 2~2050 (m³/h)

Total head

:

H=3~150 (m)

Pump speed

:

n=1450/2900rpm

Design temperature

:

T=-20~150ºC

Fluid s.g.

:

γ≤1.85

Pump diameter

:

50~350mm
Features:
Conform to ISO2858(GB5662)and GB/T5656(equivalent to ISO5199)

Heavy shaft of increased diameter, the bearing capacity of bearings is averagely increased by 75~160%, the life of bearings are tremendously extended.

Forced internal cooling cartridge mechanical seal and big sealing chamber reduced the possibility of breakdown.

Easy adjust method of pump rotor part to maintain low pressure of sealing chamber, to reduce the axial force,and therefore guaranteed the stable operation of pump.

Several transforming designs enlarged the range of application of pump, increased the reliability of pumping special fluids.

High interchangeability of pump parts reduced the cost on spares parts for clients.
Structure:
Single stage,single suction,horizontal centrifugal pump. Bracket structure for bearing parts, the bearing housing is supported by the bracket. The axial displacement of pump rotor part can be adjusted by a special bolt. Closed impeller(ZBG type),semi-open impeller(ZBK type) and fully opened impeller(ZBQ type) are available.

The impeller is connected with shaft by screw thread, an anti-vortex plate is adopted at the pump inlet to increase the reliability of pump.

The impeller with rear blades is adopted to balance the axial force at the pump suction. And the gap between the rear blades of impeller and pump cover can be adjusted by a bolt.

The pump structure is back pull type,the rotor part(impeller,shaft,shaft sealing and bearings) can be removed without dismantling the pipes during maintenance.

The shaft sealing is cartridge mechanical seal, and can be customized as single mechanical seal, packing sealing and secondary impeller+packing sealing.
Configuration: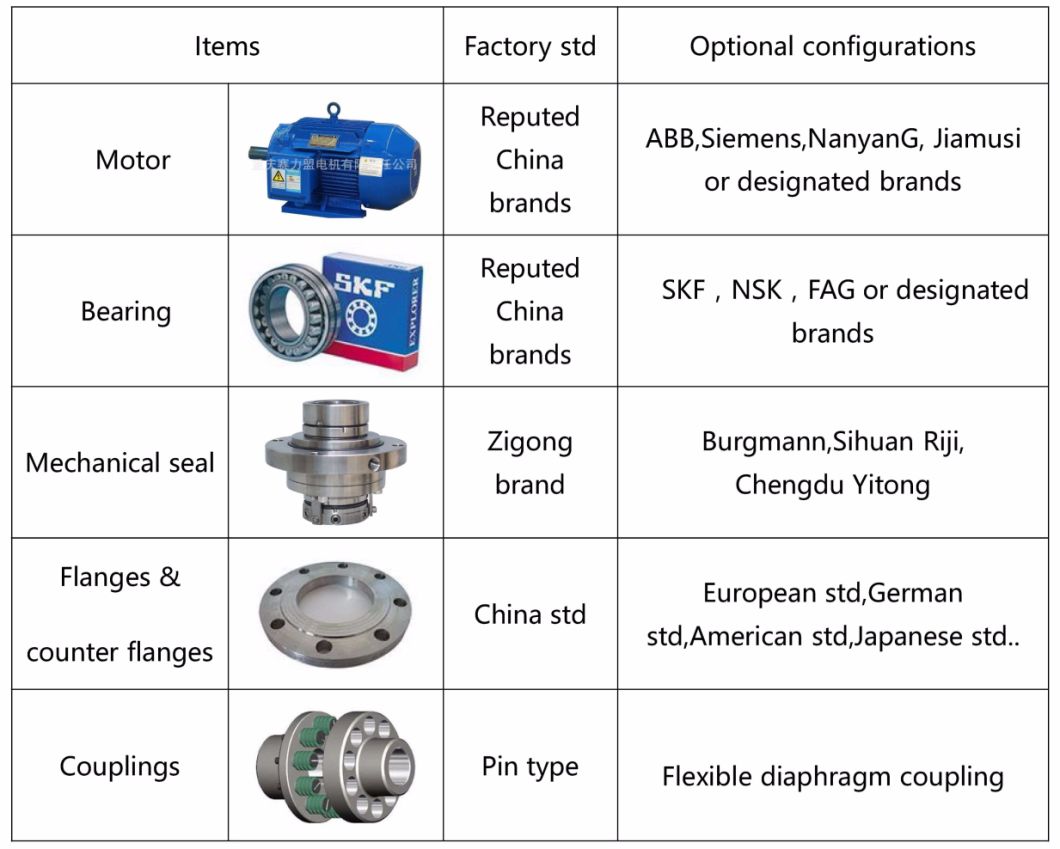 Application:
a. Chemical,dye,petroleum,pharmacy,brewage,electroplating,dyeing,environment protection, power plant, mine, oil tanker, etc;
b. Chemical medium with acid or alkali, slurry.Viscosity≤100centipoise,Solid content≤30%.
c. The building, fire control, and farm's water feeding.